Chicken tacos are deliciosa comida rapida y facil de hacer en casa, says Gorka Barredo, the fastest-talking Castillian Spanish narrator ever.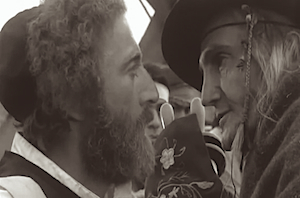 (PNS reporting from EAST LOS)
As
Passover
 approaches, we commemorate a little-known chapter in local history: the story of California's only Jewish mission,
Santa Zipporah de la Culpa.
Founded on Passover 1799 by a youthful colony of Spanish Jews fleeing the persecution of their parents, at its height the mission comprised a thriving community of several hundred souls along the Los Angeles River, near present-day Boyle Heights.
Often overshadowed by its overachieving Catholic neighbors in San Gabriel and San Fernando, Mission Santa Zipporah was founded by the storied 'Father' Shmuel, the Jewish missionary sometimes known by his nickname, "Father Sarah."
Mas…The California Mission lost to history: Santa Zipporah de la Culpa