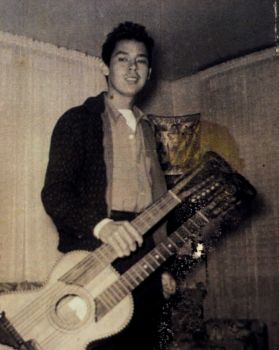 Jesus "Chucho" Perales, a founding member and guitarist with Mando & the Chili Peppers, a band considered to be among the very first of the Chicano rock 'n' rollers in the mid-1950s, died Sunday. He was 78.
The Chili Peppers were the first Mexican-American group to appear on American Bandstand. The group toured the country, played Las Vegas and performed with Ritchie Valens, the Champs and Duane Eddy. The band's album, On the Road with Rock N Roll, recorded in 1958, is a collector's item.

He received his first guitar, a Gene Autry model, when he was 8 from Alfred Flores Sr., owner of Alamo Music. By 14, Perales was playing rough joints with pioneering conjunto musician Valerio Longoria.

Jesus "Chucho" Perales was born on Christmas Day 1935.
Mas…RIP Jesus 'Chucho' Perales, Chicano rock pioneer (video)