(PNS reporting from OAKLAND) "Are you planning on voting Tuesday, brah?" Dale Mendoza scrunched his eyes shut behind his dark sunglasses as he concentrated on his phone call with a potential voter in Arkansas.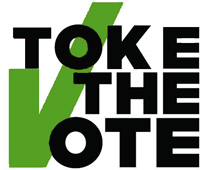 "This election is critical, OK, and we totally need your vote." Mendoza (photo, left) was the team leader of two dozen phone bank volunteers in a basement office in this Northern California city, possible the country's most pot-friendly municipality.
The smoke-filled room is a California outpost of Toke the Vote, a coalition of pro-marijuana political activists backed by the Zig-Zag cigarette papers company and ConAgra's Screaming Yellow Zonkers snack products.
Mas…Toke the Vote urges big turnout for Tuesday Presidential election