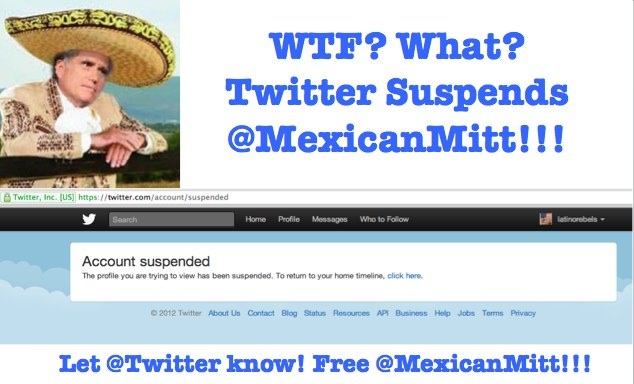 [Editor's Note: After a sleepless, tormented night in Twitter jail, MexicanMitt awoke to find his account un-suspended and his list of followers and followees restored. He has thanked all his supporters and promises an update for you people as soon as possible. He's running for office for Pete's sake!]
Has the wildly popular and hilarious Twitter parody account @MexicanMitt self-deported? That's what many of his fans and followers are asking on Twitter tonight.
Complicating the anger and disbelief at the scuttling of the Mexican Mitt Romney account is the timing: The night of actual Mitt Romney's big RNC speech, an event at which @MexicanMitt was prepared to "live tweet."
Mexican Mitt has been named as the Number One funniest parody political account on Twitter by Politico, and has been lauded by several sites and countless Twitter users and journalists, and even mentioned by Rachel Maddow on MSNBC and the L.A. Times.

Mitt Romney's Mexican alter ego no doubt has pissed off somebody very important, or has been the victim of a coordinated reverse-spam complaint attack from humorless right wingers. Or worse.
Besides pointing out the convenient timing on the eve of the RNC speech, there's the appearance of a new, promoted  Mitt Romney campaign Twitter topic. Hmm.
Twitter has yet to respond to numerous press inquiries, including from our friends at LatinoRebels and at NBC Latino.
Mas…Who killed @MexicanMitt Romney's Twitter account? And why?