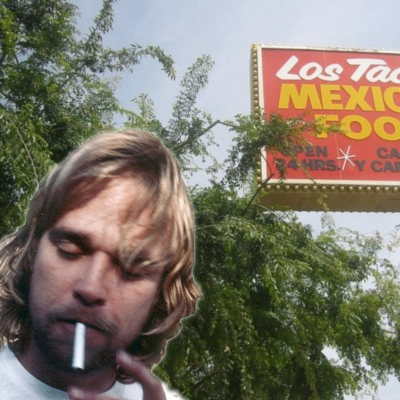 (PNS reporting from WEST HOLLYWOOD) "Everything is everything," a long-time West Hollywood denizen reminded passersby Sunday.
Kenny Southpaw, who has observed the local scene in this small Los Angeles County city since he completed his court-ordered halfway house stay in October 2010, maintains an office on the mini-mall sidewalk in front of Los Tacos on the south side of Santa Monica Boulevard, just west of Fairfax Avenue, across from the Method Acting school and between the 7-Eleven and the gay "Wash & Cruise" laundromat.
"What goes around comes around," he informed convenience store shoppers, Mexican food diners and people with dirty clothes who ignored his pleas for cigarettes, food and beer.
"Got any spare change?" he added.
Kenny photo by PattyMooney. Los Tacos photo via VisitWestHollywood.com
POCHO ÑEWS SERVICE PNS IS A WHOLLY-FICTITIOUS SUBSIDIARY OF POCHISMO, INC., A CALIFORNIA CORPORATION, WHO IS A PERSON ACCORDING TO THE SUPREME COURT. DON'T ASK US, WE JUST WORK HERE.