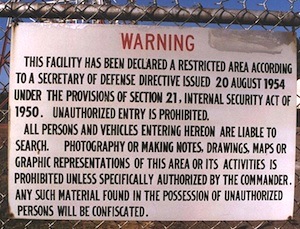 (PNS reporting from OAK CREEK, WI) Following the second mass shooting by a white male in just a few weeks, Federal authorities will soon start building and outfitting concentration camps for young, white men racially profiled as potential domestic terrorists.
The last time concentration camps were mandated in the U.S. was during World War II when thousands of Japanese-Americans lost their homes, jobs, possessions to ensure the safety of the nation.
"It's the same principle," FBI Special Agent Phillip Coulson told a press conference here yesterday "The truth is, no one is safe anymore when young, white men have ample access to firearms, free reign to be hateful online and white privilege that allows them to fly under the radar of our racial profiling system."
The camps will be located in areas where authorities will can easily monitor the white male subjects in homogenous surroundings.
"We've found that, in a system with similar threatening white males, most tend to lose their nerve when it comes to staging a mass domestic terrorist act," Coulson said. "Some P.C. types like to call it racist — but the truth is, it saves lives."
Authorities have said they would build the camps all over the country, including Silverlake in Los Angeles; parts of San Francisco's Mission District and the area known as SOMA; Delaware; North Dakota; Waco, TX and certain buildings in Washington, D.C., among other locations.
"We want to make sure that we can isolate them in environments that seem 'normal' to them," Coulson explained. "We don't want to provoke them by actively profiling them, alerting neighbors to the danger, monitoring them via the criminal justice system, or creating systematic stereotypes about them, because quite frankly, we are kind of afraid they will find out where we live."
"This way we can keep tabs on them without their knowledge," he added.
POCHO ÑEWS SERVICE PNS IS A WHOLLY-FICTITIOUS SUBSIDIARY OF POCHISMO, INC., A CALIFORNIA CORPORATION, WHO IS A PERSON ACCORDING TO THE SUPREME COURT.  DON'T ASK US, WE JUST WORK HERE.