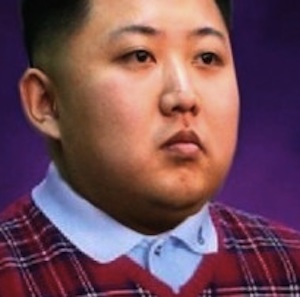 (PNS reporting from SWITZERLAND) North Korean strongman Kim Jong Un is actually "a fun dude," according to his classmates at the elite Swiss prep school Institut Le Rosey.
The five 1998 grads are planning to endorse Kim (yearbook photo, right) on his LinkedIn and Klout accounts before he starts a nuclear war next week.
They were all close friends at the international boarding school, said to be the world's most expensive, which has traditionally educated the children of world leaders.
"Kim is totally awesome and hella bro," classmate Chip Al-Assad told PNS in a Skype conference call Friday.
"Totally rad, dude, and the kind of friend you'll never forget," gushed classmate Corky Milosevic.
"Unforgettable guy and fuckin' funny, too!" Brad Ahmadinejad offered.
"One hundred percent mensch," said Dylan Mugabe.
"He's a party animal!" added Biff Pinochet.  "Ask him about the night we lit the kimchee farts!"
Pinochet also said that King Jong Un was a bigger party animal than his brothers, Kim Jong Du and Kim Jong Twa.
POCHO ÑEWS SERVICE PNS IS A WHOLLY-FICTITIOUS SUBSIDIARY OF POCHISMO INC., A CALIFORNIA CORPORATION, WHO IS A PERSON ACCORDING TO THE SUPREME COURT. DON'T ASK US, WE JUST WORK HERE.