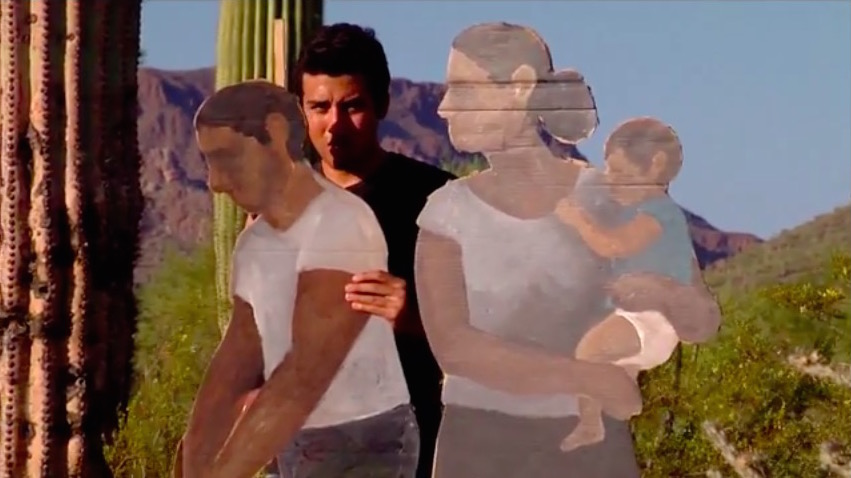 Los Angeles artist Ramiro Gomez, Jr. first captured our attention when he began placing carboard cutouts of immigrant laborers in front of fancy mansions in Beverly Hills. Why? He wanted to celebrate the workers who are usually invisible by making them visible for all to see.
Gomez subsequently began creating cutouts memorializing immigrants who died on their journey to El Norte, and installed these new figures in the Sonoran desert on the border with Mexico.
Gomez and his partner David Feldman documented the project in Los Olivados — The Forgotten. Their documentary — which has been playing the film festival circuit for a year — is now online for the first time.
Here's what they wrote on YouTube:
We are all the product of immigrants in the United States. Let's bring the humanity back to the #immigration debate, and remember where we all came from..

Los Olvidados, Spanish for The Forgotten, is the story of Ramiro Gomez, a 29 year old Los Angeles street artist who in the past 18 months has garnered the attention of The LA Times, The Washington Post, NPR, CNN, and other international media outlets. This attention emerged after Gomez, having taken a job as a nanny in Beverly Hills, began to create life-size cardboard representations of the migrant gardeners, housekeepers, and nannies he works alongside, and place them in front of houses around affluent neighborhoods such as Beverly Hills and Bel Air.

The son of Mexican immigrants, Gomez felt that these migrant workers were being overlooked for their contribution to the pristine lives and lifestyles of people in these neighborhoods. These are the same migrants who have endured tremendous hardship crossing into the United States, simply to cut grass, park cars, clean houses, and care for others children.

Wishing to take his message further, Gomez instinctively decides to travel to Arizona, the epicenter for the contentious political debate on immigration reform in the United States. His intention is to place within the Sonoran desert, a cardboard family in mourning, not only to pay homage to those who made the arduous journey for a better life, but also to honor the ones who didn't make it to the other side.

Los Olvidados is a tangible reminder of those souls who made the trip "El Norte", and is an attempt to remind us, that we are all immigrants in this country.