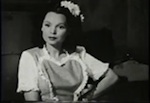 (Machine Gun Mama, 1944, 60 mins) Two Brooklyn fishes-out-of-water are south of the border when their truck breaks down on the way to deliver an elephant. (Yes. On the way to deliver an elephant. This lightweight comedy is big on gags and short on plot.) Luckily (!) they run into a roadside Mexican circus-carnival-sideshow. Homegirl cutie-pie Armida is hysterical as the sassy female circus star. Listen to her curse at the gringos in Spanish!
Who is Armida? From IMDB:
Date of Birth
29 May 1911, Sonora, Mexico
Date of Death
23 October 1989, Victorville, California, USA (heart attack)
Birth Name
Armida Vendrell
Height
4′ 11″ (1.50 m)

Mini Biography
Tiny, emotive Latino beauty who was 'discovered' singing and dancing in an act with her two sisters at the Los Angeles Hidalgo theatre. Vaudeville impressario Gus Edwards recognised her talent and took her under his wing. She soon appeared on the circuit in novelty numbers and vaudeville skits, while at the same time being groomed for Hollywood. She performed two typically Mexican numbers in her first screen appearance: Mexicana (1929), which also featured Xavier Cugat and His Orchestra.

Her vivaciousness and fiery temperament so impressed John Barrymore, that he cast her to appear with him as the gypsy dancer Fidelia in General Crack (1930). Eighteen-year old Armida was then offered a five-year contract with Warner Brothers Which had to be ratified in court, with her father Joaquin Vendrell (a Spanish-born magician, calling himself Arnold the Great) acting as guardian. For the remainder of her career in films, Armida was usually cast as 'specialty dancer' in south-of-the-border westerns and minor romances. While her singing and dancing kept her busy in films, it did not lead to her becoming another Lupe Velez. One of her few leading roles was in The Girl from Monterrey (1943). Armida's one notable appearance on Broadway was in 'Nina Rosa' (1930-31), a Sigmund Romberg/Otto A. Harbach musical which ran for 137 performances.