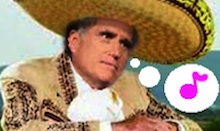 Mexican Mitt Romney just spoke to the National Association for the Advancement of Colored People convention in Houston, TX and we have the transcript:
—BEGIN TRANSCRIPT—
Thank you, NAACP for the invitation to espeak here, and Bishop Graves for your introduction. Thanks also to President Ben Jealous and your weird last name.
Good mornings, black humans. I am Mexican Mitt Romney. I know it is crazy to speak to you here at the NAACP, but guatever.
I will not be the Presidente for only the East Coast, or the West Coast. I do not believe in your geographic gang rivalries. I want to be the Presidente for all the people, but mainly the rich people. I know you already have Black Reagan as your Presidente, but hear me out.
Tomorrow Vice President Joe Biden will speak before you, please do not let him drink a 40-ouncer before he comes onstage, just sayin'. I won't let any special interests like black people get in the way, whoops, that's from my GOP nomination speech.