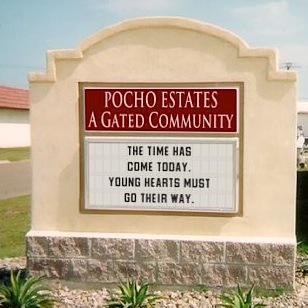 Rancho Pocho and surrounding communities will be alive with excitement tonight as everyone awaits the End of the World As We Know It at midnight local time. Don't stay at home — party hardy or die Mayan!
Here's what's going on around town:
• FOR THE GENTS: In the Rancho Pocho Downtown Historic District, Club Rico for Gentlemen is offering no cover admission to a special presentation by the North Pole Dancers, the chillest elvettes to ever stuff a thong. Dressed as Santa? All lap dances are 50% off!  Prices good until midnight, of course.
• FOR THE LADIES: Don't be fat at the end of the world — burn fat at the Grand Opening of the new Spin 'N' Thin Spa located where the Gun 'N' Run sporting goods store used to be on Miramar in Pocho Hills. Burn, baby, burn with "all you can spin" classes at two-for-one prices. Bring your BFF and spin till you barf at one low price. It's never too spin to be thin! Special available until midnight.
Mas…Around Our Town: Where to go, what to do for the Mayan Apocalypse