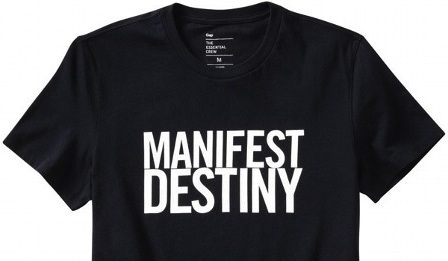 (PNS reporting from NEW YORK CITY) After the public outcry sparked by its "Manifest Destiny" t-shirt, the Gap is now cancelling its entire line of t-shirts in what was to be their signature "Final Solution" collection.
"Guess people aren't as wild about genocide as we had hoped," a Gap insider told PNS, "which is a damn shame.We had some great designs planned which we felt would appeal to the coveted 'racist hipster douche' demographic currently locked up by Urban Outfitters."
The news came as a shock to loyal customers.
A bewildered shopper at the midtown Manhattan store, a drum circle enthusiast known only as "Moon Raven," expressed outrage over the news. "This is such bullshit," Raven said.
"How dare they accuse me of being a racist for rocking such stylish Aryan attire! My grandmother was a full-blooded Cherokee princess, and if I say this isn't racist, then it isn't racist. These guys are the ones talking about race, so it sounds to me like they are the racists. Racists against fashion."
Cancelled t-shirts in the line include designs emblazoned with slogans such as "Lynch Mob," "Final Solution," "Indian Killer," and the popular "Hitler Was Right."
Look for dumped shirts to soon begin appearing at swap meets and flea markets across the nation.
This especial report via Mexika Resistance.

POCHO ÑEWS SERVICE PNS IS A WHOLLY-FICTITIOUS SUBSIDIARY OF POCHISMO INC., A CALIFORNIA CORPORATION, WHO IS A PERSON ACCORDING TO THE SUPREME COURT. DON'T ASK US, WE JUST WORK HERE.