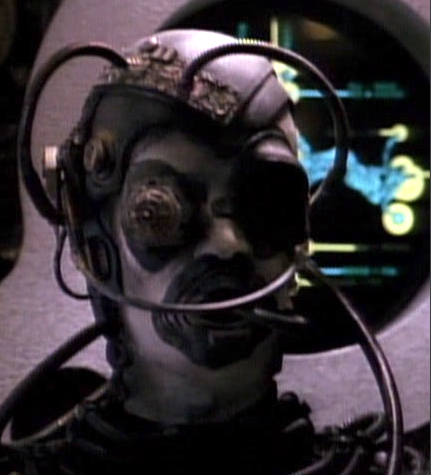 There are certain situations in Hollywood where as an actor you have to have no shame.
This was one of those times as I stood inside a large curtained-off fitting room wearing only a flesh-colored dance belt, the equivalent of man panties. Well, it is true that actors are a strangely alien tribe which are most unique only in Hollywood. I mean, where else would a Latino wear such a ridiculous contraption?
OK, back to my man panties… Key costumer Kim Thompson enters with a box of silver and black shaded and molded latex pieces twisted into sinewy shapes and a box of safety pins. She hands me a stretchy nylon body suit and says, "Put this on," not asking, knowing full well that I would welcome a cover-up of my nakedness.
"The zipper goes in back," Kim instructs. Standing in the Paramount Studios Costume Department, Kim's assistant Amanda grabs hold of the zipper down at my butt level and zips me in upwards. I am being fitted to portray what would become one of the most iconic and foreboding adversaries in Star Trek history, one of the Borg.
This was not my first journey into Star Trek lore. Two years earlier I had traveled on location to Edwards Air Force Base, a vast dry lake bed, as one of eight men who had been cast as aliens in Star Trek V: The Final Frontier, the fifth feature installment in the iconic film franchise. We wore specialized alien latex appliance make-up and head pieces for close-up camera angles. In the end, I became the character Wrinkles (photo below) that director William Shatner used only sparingly during the original S.S. Enterprise crew's journey to the planetary outpost of Paradise. The one-week adventure required a daily four-and-a-half-hour process to properly apply the make-up prior to slipping into our specialty wardrobe.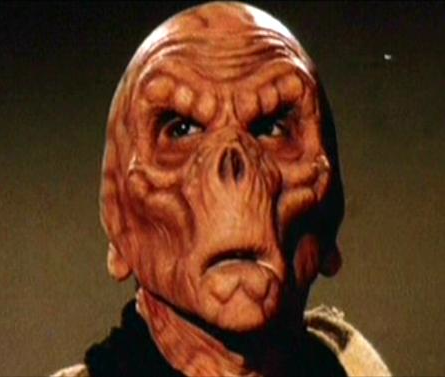 But this Borg time was different. This new enemy being introduced to threaten the crew of Star Trek: The Next Generation would launch a recurring storyline throughout the life of the TV series.
Little did I know then that the Borg would grow to become the most popular and recognized villains ever created in Star Trek lore according to polls taken from the numerous online fan sites and at the global Trekkie conventions. In second place was the ultra-smooth, highly-intelligent Q played by John de Lancie, and third was the stellar turn by Ricardo Montalban as Khan.
Ricardo was magnificent in his portrayal. Pretty ironic to think that two of the three most popular villains in the Star Trek franchises were aliens portrayed by Mexican-Americans!
The creation of the Borg was a blending of the talents of make-up designer, Michael Westmore and costume designers William Ware Theiss and supervisor, Carol Kunz. The Borg were designed to be efficiently adaptable in both their functionality and menace. This was embodied by the catch phrase "Resistance is futile. You will be assimilated."
Again ironic, considering the Mexican-American angst suffered upon every Latino child born in the U.S.A. and finding their way to assimilate into the Anglo-dominated society, including myself.
From a costuming point-of-view, Kim told me that my 6'0″, 135 lbs. slender frame was ideal for the character because the attachable latex musculature was where the body's definition would be created.
Overall, the costume weighed nearly 40 lbs. in latex making the task of simply sitting down a chore and forget about a bathroom break! The costumers needed a 15-minute warning to undo the straps, rip open the Velcro, and unzip the body-suit for relief.
From a make-up standpoint, one of the make-up artists on the show's roster once told me as I sat in the makeup lab as he applied the grey-tinted white base to my face, "Your skin pigment is easier to work with because it is slightly darker than say… a White guy's. Because of the better contrast, it helps to ensure that your face and hands are fully covered by us. Kinda like when you're painting a wall, you already have a built-in base coat."
Being born here in California, the only thing that could have made this all the more ironic is if I was an immigrant. Thus, I would've been an alien being transformed into an alien.
In all, I filmed a total of seven episodes as a Borg throughout both the Star Trek: TNG and the Star Trek: Voyager TV series.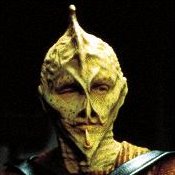 Because of my tall, slender build that Creator Gene Roddenberry's vision of beings in the future embodied, I also played various other aliens on the fourth TV series offering, Star Trek: Voyager. I was one of the violent criminals on the prison-satellite episode of The Chute; a Krenim Officer on the bridge of the enemy ship in the Year of Hell Pt. 1 and 2 episodes; and as a Dream Alien (photo) in the turning-point scene of the Waking Moments episode opposite Robert Beltran as Chakotay.
I like to think that it was my professionalism that afforded me, a Latino raised in the barrio of San Bernardino, CA, such a long run within the science fiction lore of the Star Trek franchises. In any case, my raza never became a deciding factor in my casting. In fact, I like to also think that it was embraced by the crew and cast and ultimately by the producers, as it should be.
Edited by Casandra Moreno Lombera and Elia Esparza. Originally published by our friends at LatinoLA.com.
Borg and Wrinkles images courtesy the Star Trek Wiki.