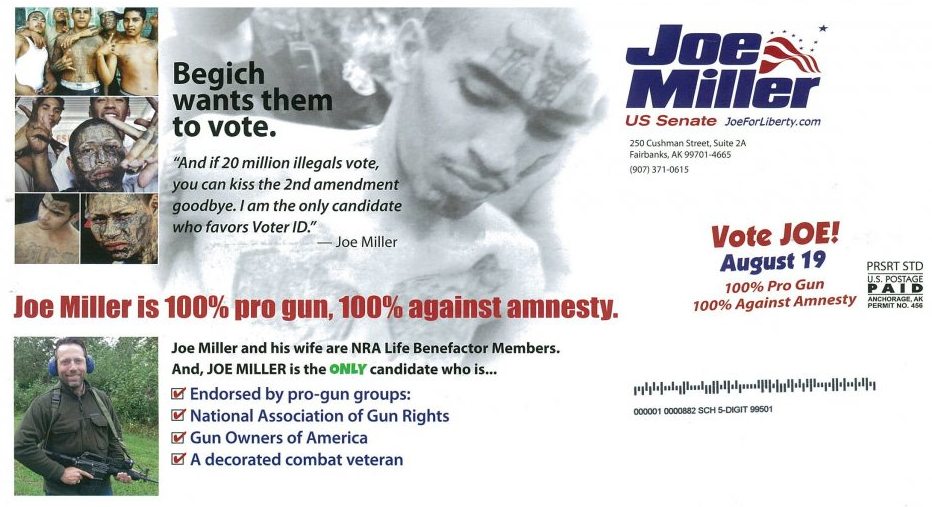 (PNS reporting from ANCHORAGE, AK) Some they call him Joe, some they call him Doh! but one group of Alaska voters is 100% behind Joe Miller, the Tea Party-affiliated candidate who is seeking a United States Senate nomination.
"His campaign mailer (click on photo to enlarge) convinced us that Miller will do a great job keeping the thriving Latino community of Alaska in check," read a press release issued Thursday by Cecilia Jones, the president of National Organization for Minorities, Advertisements, Media Exposure and Symbolism. "And that especially goes for your drug-dealing border-crossing tat-wearing illegal alien Democrat voters!"
"Without brave candidates like Miller, Alaska would be overrun by people coming here to work hard and seek a better life. We at NOMAMES heartily endorse his candidacy!"
Anchorage Tea Party president James White disputed accusations that Miller's flyer was racist, saying that while he's never actually met any Hispanics in Anchorage, he's sure the images are accurate. "I saw some on Facebook that looked just like that," he said. "How is it racist when it's on the Internets?"
One area family is united in totally supporting Miller:
"I've never met a High-spanic person in my life, but I'm glad Miller is for keeping them away from me, because I've gotten some forwarded emails saying they want to destroy my life," sled-dog whisperer Edouard Mush told PNS.
"His campaign mailer, with the helpful illustration depicting a representative archetype, went a long way towards helping me understand the complex and nuanced issues facing our state, the nation and the world."
"Oh yeah maverick plain-speakin' mama grizzly bear!" added Akita Mush, his wife. "I know all 'bout those ill eagles. I can see a Mexican restaurant from my porch!"
POCHO ÑEWS SERVICE PNS IS A WHOLLY-FICTITIOUS SUBSIDIARY OF POCHISMO INC., A CALIFORNIA CORPORATION, WHO IS A PERSON ACCORDING TO THE SUPREME COURT. DON'T ASK US, WE JUST WORK HERE.