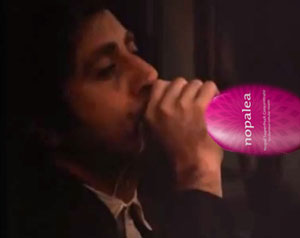 (PNS reporting from LA FLORIDITA) Arturo Marengo has discovered the secret to youth, longevity, perfect health and fitness, again.
After spending last Wednesday on WebonMD trying to diagnose the dull ache in his left index finger, Marengo stumbled across an ad for Nopalea Cactus Juice and Health Supplement.
Though in his mid 30s, Marengo, a performance artist/travel agent/dog walker, suffers from multiple health issues including a sharp pain in his knee, a strange tingle behind his right ear, a constant cramp in left big toe, and a burning feeling in his left eye (Marengo suspects the eye burning is related to his toe cramp).
After a harrowing five minutes of fighting with PayPal (he left his caps lock on), Marengo was able to log in and check out of the Nopalea webstore. The juice arrived just two days later, and though the UPS guy left the box outside in the hot Florida sun for several hours, the Nopalea liquid seemed unaffected.
Upon noticing its arrival, Marengo drank two whole bottles and felt a drastic health improvement within minutes.
"Now I just have kind of like, a buzzing in my ears and like a stiffness in my elbow and well like I have to blink a lot. But otherwise I feel great!"
Though his regiment already includes two vials of ginkgo biloba, three capsules of fish oil, several multivitamins and a glass of Super Amp Acai Pro-Health Clam Juice, Marengo believes Nopalea is much-needed addition to his health supplements. He even unveiled his own special "Bloody Mary" at a nephew's baptism last Sunday: a mixture of Nopalea Juice, Acai Clam Juice, and a celery-flavored energy bar.
His family was less than thrilled by the concoction.
"Every year, Tio Artecucho finds some dumb new miracle cure," stated his niece, Pilar. "Guess what we're all getting for Christmas…"
"I still have tons of that stupid Acai Clam Juice he gave me three years ago. Like yuck…" chimed in his other niece, Zaida. "Now this cactus crap? He might as well grind up some goji berries with chia seeds and dog pee and serve that at Noche Buena."
While over the years, his family has dropped subtle hints, his nieces fear it will take a full-blown intervention to stop the barrage of miracle cure gifts.
"Subtly is not his strong suit," stated Pilar, "like when we told him he might need to think about his career future, he subscribed to Walter Mercados newsletter."
POCHO ÑEWS SERVICE PNS IS A WHOLLY-FICTITIOUS SUBSIDIARY OF POCHISMO INC., A CALIFORNIA CORPORATION, WHO IS A PERSON ACCORDING TO THE SUPREME COURT.  DON'T ASK US, WE JUST WORK HERE.