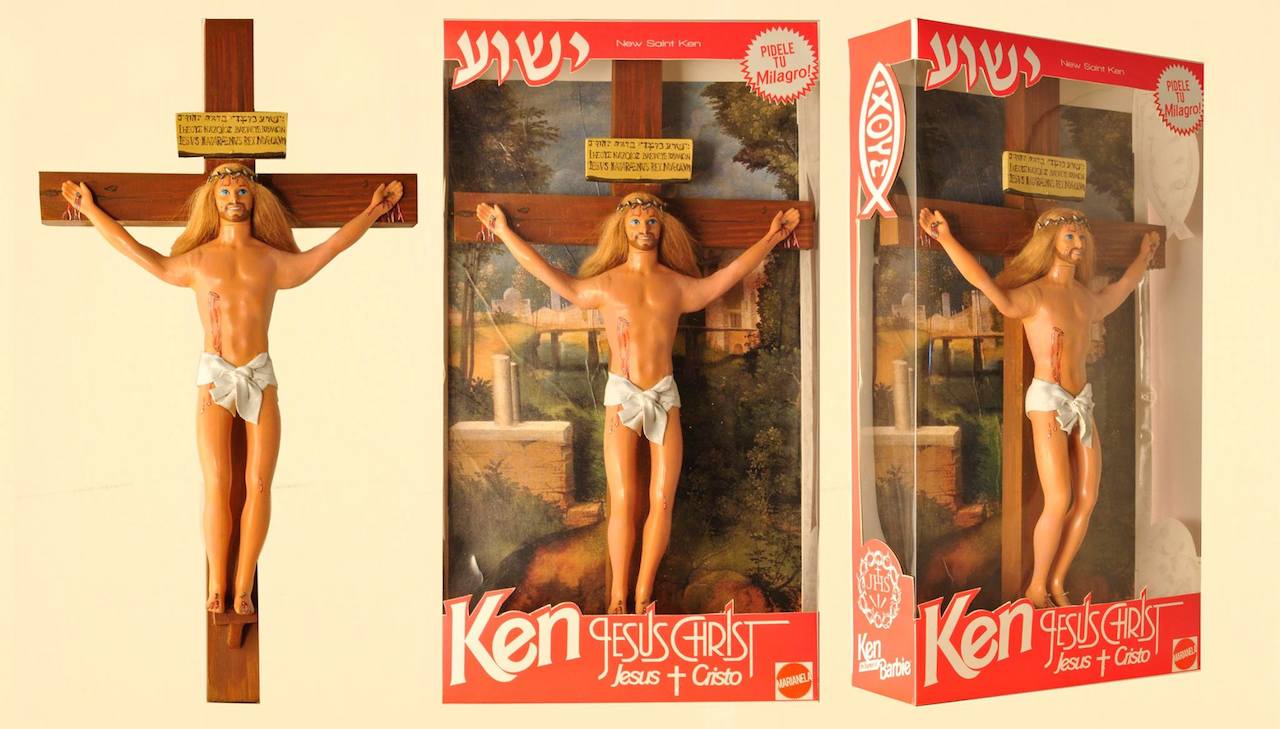 (PNS reporting from ANAHEIM) Movie executives here are scrambling to respond to the fury over just-announced Christian religious figures re-imagined as Barbie dolls.
The Kens and Barbies are slated to promote the Mattel-Disney movie Crucifiction that "rebrands" the Passion of Jesus. The film is set for Xmas release.
The Disney reps — now on the defensive — have a heavy cross to bear.
"Anyone involved in the making of these films will burn in eternal damnation," preacher Kay LaSpark wrote on her blog. "These films are against everything Christ stood for, and the Virgin Mary doll is a little bit too brown."
Latino activists are split on the dolls. For some, the saints and Christ Barbie dolls are a fitting tribute, while others are deeply offended at the brash way their beliefs are being marketed.
Consuela Confusello, a Hidden Hills PR executive, questioned Disney's handling of the sensitive religious content.  The movie trailer, she told PNS, portrayed Jesus' resurrection "more like a Sleeping Beauty moment" than a transcendental religious experience.
Controversy has followed the movie from its not-so-immaculate inception.
Disney sources say that the title of the movie was changed from Cruciferous and Cruciferae (Latin for "cross-bearing") because focus groups at test screenings had major cravings for vegetables after seeing the originally-titled movie.
"It skewed too heavily to the Whole Foods loving crowd," one insider revealed. "Who wants Chinese food?" he added. "Broccoli smoothie?"
Disney and Mattel representatives' only public response has been a short press release:
It is our goal to bring beloved characters from each franchise to store shelves. By working together, we've designed an exciting collection of toys and apparel for the young and young at heart.

As far as our filmmaking process at Disney, we have been appropriating cultures and whitewashing ethnic characters practically since we were created, and as a company we stand behind that work. In keeping with these traditions we found it only fitting to partner with Mattel to commoditize religion during the holiday season.
The rebranding of the Crucifixion story won't sit well with many holiday shoppers, who are aghast at rumors of other Saintly dolls.
Area Realtor™ Kay San Tucha couldn't turn the other cheek when she saw leaked online photo prototypes of the Apostle Dolls. "They were way too much like the Seven Dwarfs if you ask me," she said. "Instead of calling the followers of Christ by their names, the dolls have names like Doubtful, Faithful, and Sellout. It's just not right."
Hollywood carpenter Bo Ludo doesn't like that the dolls was manufactured in Argentina.
"Argentina's making dolls? Are they going to be pretentious?" he asked. "They should keep to making steaks."  His sentiments were echoed by others, concerned that the movie would rewrite the Last Supper to make it an asado.
Sexual education activists have joined the fray, claiming the anatomically-incorrect dolls will send the wrong message about how children, even prophets, are conceived. Mary and Joseph dolls could warp sexually-confused teens wondering about Immaculate Conceptions.
"Is it okay to be attracted to Jesus on the Cross?" one pre-teen reportedly asked her mother. "He's got nice abs. And the Mary Magdalene doll's boobies show. I'm just saying."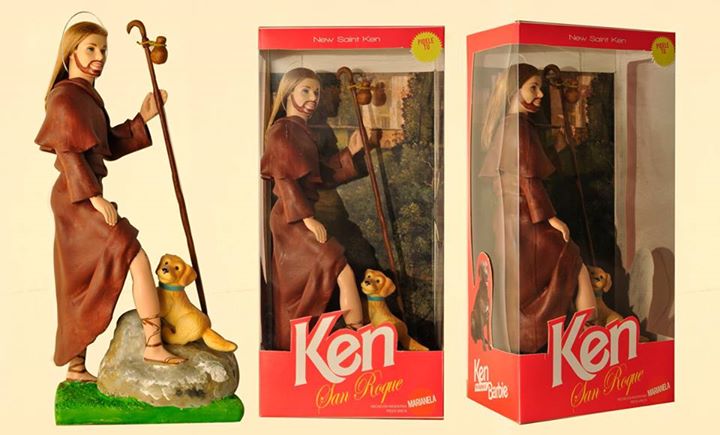 Click here for scores more doll images via Argentinian artists Pool&Marianela.
POCHO ÑEWS SERVICE PNS IS A WHOLLY-FICTITIOUS SUBSIDIARY OF POCHISMO INC., A CALIFORNIA CORPORATION, WHO IS A PERSON ACCORDING TO THE SUPREME COURT. DON'T ASK US, WE JUST WORK HERE.