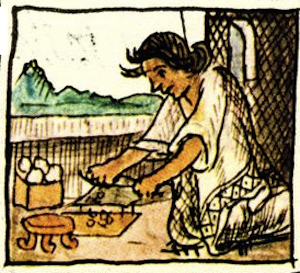 (PNS reporting from LAREDO) Tia Chita will not be hosting the annual holiday season tamalada at her house this year, she revealed to her family last night. As a matter of fact, she told stunned participants at her niece's baby shower, she never wants to make another tamal in her life.
"First of all, I'm sick of all the gossip!" she shouted, pacing around the room quicker and quicker the more excited she became.
"I know the tamaladas are where all the comadres are supposed to catch up on 'family news' and everything, but did you ever think that I really don't care who's sleeping with whom and who's going to have a baby? Ya estoy vieja, I've been a million weddings already!"
Chita is sick of everyone coming over to eat her food and then leaving dirty napkins everywhere, staining her nice couches with tamal grease, she said. Sometimes the bathroom gets stopped up, and she has to have the neighbor come over with the plumber's snake. "He's not a smell-good plumber," she grimaced.
Mas…Tía Chita: 'It's final! I've absolutely, positively made my last tamal!'