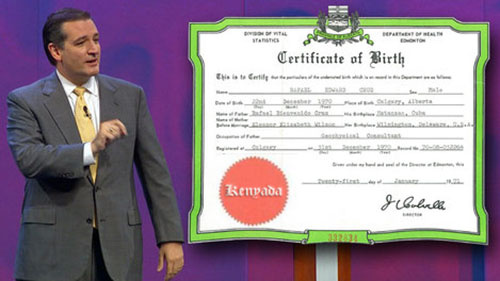 (PNS reporting from DALLAS) Like Barack Obama before him, Sen. Ted Cruz (R-TX) is fighting doubts he is really a "natural born citizen" of the United States, a question he must settle before he runs for president.
"I am a proud Kenyadian," the beaming senator told reporters here this morning as he displayed a copy of his birth certificate. The official record shows his mother was born in Delaware, his father is from Cuba, and Cruz was born in Kenyada.
Mas…The GOP's Sen. Ted Cruz reveals he is a 'proud Kenyadian'
The reelection of President Barack Obama is news around the world, too, so POCHO Ñews Service PNS sent reporters out on the street to gather reactions from colorfully-dressed pedestrians who consented to interviews and photos without compensation.
Here's what they had to say:
Mas…Obama victory means happy happy joy joy for some, others are meh