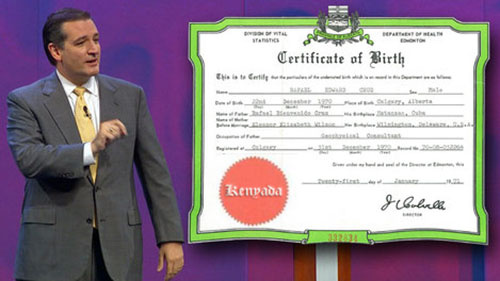 (PNS reporting from DALLAS) Like Barack Obama before him, Sen. Ted Cruz (R-TX) is fighting doubts he is really a "natural born citizen" of the United States, a question he must settle before he runs for president.
"I am a proud Kenyadian," the beaming senator told reporters here this morning as he displayed a copy of his birth certificate. The official record shows his mother was born in Delaware, his father is from Cuba, and Cruz was born in Kenyada.
Cruz plans to visit his homeland of Kenyada someday, perhaps during his first term as president. "I am not familiar with their traditions, but I hope to embrace them when I travel to their humble villages, and attend their sporting events while wearing their traditional garb," the Tea Party favorite said.
Tea Party members were ecstatic at the news. A Tea Party member outside the White House holding a swastika-emblazoned protest sign said, "We are happy to finally have a candidate who has roots in another country other than the U.S.A. It's time to open up the White House to more diverse occupants."
POCHO ÑEWS SERVICE PNS IS A WHOLLY-FICTITIOUS SUBSIDIARY OF POCHISMO, INC., A CALIFORNIA CORPORATION, WHO IS A PERSON ACCORDING TO THE SUPREME COURT. DON'T ASK US, WE JUST WORK HERE.