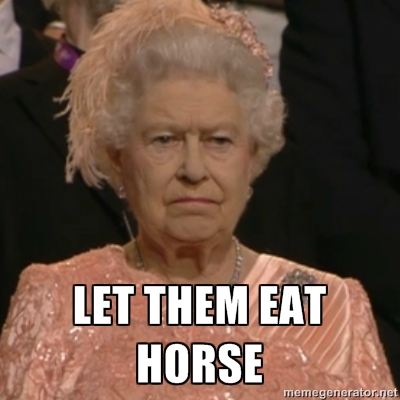 (PNS reporting from LONDON) Queen Elizabeth II of England — depite being briefly hospitalized with a stomach infection — has endorsed the stampede of European carnivores who say horsemeat in your beefburger is no big deal.
Joining the German cabinet minister who advocated giving horsemeat-tainted products to poor people and the Huffington Post's LatinoVoices, which published a Cuban horsemeat recipe, the 86-year-old Queen put her stamp of approval on the new "austerity" regime:
Mas…PNS*Hot*Flash: Sick Queen Elizabeth says horsemeat is fine

Ann is having having trouble taking dictation (her Blackberries are on the wrong side of the estreet or something) so here are my personal Pocho Ocho Top Tweets from England for ustedes:
8. Mexican Mitt Romney: DAMN THERE'S A LOT OF MUSLIMS HERE
7. Mexican Mitt Romney: WE'RE GOING TO KICK YOUR ASS IN DRESSAGE, BEECHES
6. Mexican Mitt Romney: WHERE'S THE NEAREST CHICK-A-FILA?
Mas…Mexican Mitt Romney: My Pocho Ocho top Tweets from England