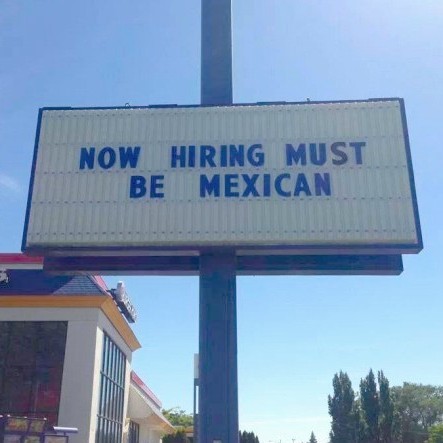 Need a job? Live near Ephrata, Washington? Burger King has openings for people like you!
Huh? Whopper the fries is going on here? MSN Money reports:
Burger King has apologized after a photo of a billboard at one of its locations went viral.

The photo shows a Burger King billboard in Ephrata, Wash., that reads: "Now hiring. Must be Mexican." Burger King said the billboard was edited by an angry employee who worked at the location last summer, The Atlanta Journal-Constitution​ reports.

Burger King apologized for the situation on its Facebook page and gave an update on the situation:

"The sign in question was posted briefly last summer, without approval at a franchise-owned and operated restaurant. Please know the franchisee has informed us that the employee who posted and photographed this sign was immediately terminated as a result. The Burger King team is dedicated to diversity and inclusion."
La lucha continúa on Facebook as this screen cap from Thursday evening shows ….
But what if a Mexican who barely can speak English estole your yob? Learn to speak broken English like a Mexican and you can get five yobs, just like they do!