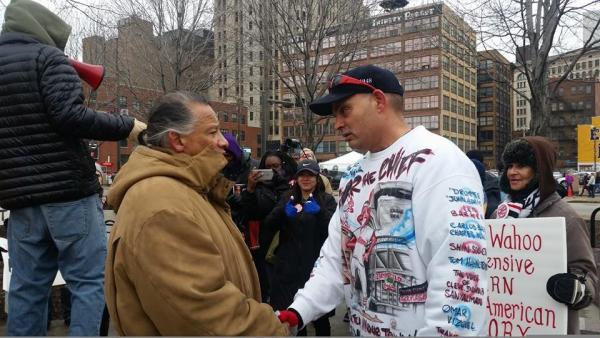 Old racist times are they a changin'?
Monday was the day for the long-awaited peace summit between the two opposing subjects of my eerily-accurate anti-mascot cartoon from 2002.
"But dude, I'm honoring you!" came to the Cleveland Indians stadium to apologize to the Native American anti-mascot protester.
Indian Country Today Media Network reports:
A Cleveland Indians fan who was photographed two years ago wearing red face and a faux feather headdress apologized for his actions to a Native American activist Monday.

While the weather stopped players from hitting the field for their season opener, or as they coined it "Tribe Opener," it did not stop 60 Native American activists and allies from participating in the yearly protest of the game in Cleveland, Ohio.

Two years ago, a photo went viral of Cleveland-based American Indian Movement activist Robert Roche and Indians fan Pedro Rodriguez who had painted his face red and donned a fake headdress while wearing a T-shirt that read, "Fear the Chief." Rodriguez claimed he "was honoring" Roche.

This year, Rodriguez would ask Roche's forgiveness and admit he was wrong from dressing in red face.

"He approached me and apologized," Roche told ICTMN. "It shocked me. I never expected [that]. He said he was an avid fan, but he was sorry and he understood where I was coming from now."
The activist was just as shocked at the apology as was when I saw my cartoon juxtaposed with the eeriy similar photo.
I do feel bad that I was not as hopeful for some sort of reconciliation and did not draw a cartoon predicting this event. Regardless, the fan, (sadly a Latino) said he will still support the racist Cleveland mascot, Chief Wahoo. Hijole. Small steps, small steps.
Read more at Indian Country Today.