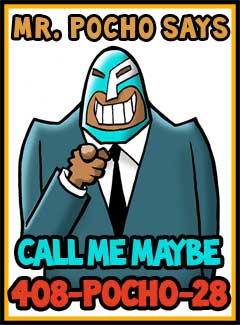 You know MR. POCHO loves you. He loves you all night long!
That's why he wants you pochos to give him a call and tell him what's on your mind.
Is there some ñews we should cruise?
What are you wearing?
What's for lunch?
Who juan the debate?
Deep dark secret you need to get off your chest?
Call MR. POCHO now and leave an anonymous message. Your number is safe with us.
We'll use Google Voice to turn your spoken voice mail into text and post it here. Like bits on the Internet, these are the daze of our lives.
Call 408-POCHO-28 now! Robots are standing by! (408) 762-4628
Aha! Our first caller. Let's see what Google Voice thinks he/she had to say…