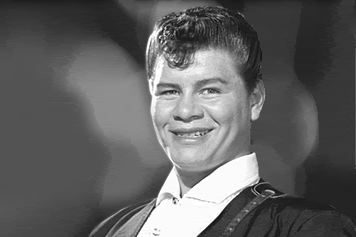 When the separation took place between Ritchie's parents, Ritchie began to spend more one-on-one time with his father. Eventually, they would find something in common to make their bond stronger, and that was music. Ritchie would also build a musical bond with his father's brother, Dickie Cota, to learn songs in Spanish. Music in the air at that time ranged from folk ballads out of Mexico, known as "corridos", to the comforting sounds of country western music. His father eventually handed him a beat-up guitar by the time he was nine years old, and with this guitar Ritchie began to sing songs, both in English and in Spanish, first for his family members, and eventually for his classmates. Ritchie's relationship with his father reminds me of my relationship with my father. My father managed his brothers' Mexican regional band, and he was very fond of music. Occasionally, he would bring home instruments and hand them to me, hopeful that I would be a musician. Thankfully, I am able to say I have built a strong connection to the world of music and to various instruments, including a six-stringed guitar.
For the rest of America, life was redefining itself. As the country kept a strong military force at the ready, and maintained a skyrocketing consumer culture, the radio was full of broadcasts about war, about sports figures, and about popular music. The songs of the late 1940's still roared in the heart of America. Ears were often soothed by jazz, warmed by country lyrics, ignited by gospel cries, intrigued by Big Band orchestras, and tingled by Latin rhythms, despite American involvement in the Korean War. In fact, there were Mexican-American musicians active at this time. Don Totsi and Lalo Guerrero were among a handful of professional Chicano musicians, and are important to mention. Don Totsi, born Edmundo Martinez Tostado, was a Mexican-American musician and composer during the late 1940s. Known for architecting the "Pachuco sound" and being the "godfather of Chicano music", Totsi fused blues, jazz and English or Spanish lyrics. The "pachuco" sound was initially the beginning of Chicano music, and would lead the next generation of Mexican-Americans to Chicano rock. They were often rejected by society for acknowledging their bi-cultural background and creating sub-cultures like Chicano culture. "Pachucos were not only a distinctive group that sported a sub-cultures like Chicano culture. "Pachucos were not only a distinctive group that sported a certain fashion – the zoot suit is best known – and even their own "hip" variant of Spanish – calo – but they also extended to each other camaraderie that set them apart from the traditionally hospitable older, often first-generation immigrant Mexican-American." (Los Angeles Times)
Lalo Guerrero of Tucson, Arizona, on the other hand, was regarded as the "father of Chicano music." Lalo composed music that became popular on both United States and Mexican radios. He worked with swing and tropical sounds to create music geared for younger generations of Latin Americans in the United States. His style was focused on romantic ballads that were sung in both English and in Spanish, just like Don Totsi and Ritchie Valens. A personal favorite of mine is called "Los Chucos Suaves" or "The cool dudes" in English. In this heavy-based, trumpet-filled, and maraca-supported tune, Lalo's words of encouragement reference change, and the need to embrace the changes in Chicano music. In one of his popular songs, he sang, "Ya los tiempos han cambiado" ("Times have changed"). Despite the racial inequality that groups like the Chicanos or Mexicans were facing, they always found different outlets through which to communicate.
By the start of the 1950's, young people would soon find their interests leaning towards a new groundbreaking sound that mixed roots music, such as rhythm and blues, with other influential genres such as western, gospel, folk, blue grass, and so on. African-American rock and roll artists, such as Little Richard and Chuck Berry during the 1950's, were growing popular among all listeners, and this became worrisome for parents. "The '50s were a time of flux, of sound and fury. The sound was made by young people creating their own culture; and the fury, that of the older generation resisting, hating, and opposing something they could not and did not want to understand." (Shaw,1) Interestingly, the actual phrase "rock and roll" originally was a code phrase for sexual intercourse in blues lyrics (web). Nevertheless, the concerned cries of conservative parents turned to dust underneath the dancing feet of the 1950's youth.
Popular culture on the other side of the border, in Mexico, included an abundance of music, ranging from "tribal" songs to music that came out of the integration of indigenous, Spanish, and even African cultures. In music and dance, it is often possible to see that indigenous groups have preserved dances of pre-Spanish origin, but have adapted Spanish or Central European music to accompany them (Geijerstam, 2). The increase of industrialization and mobilization in Mexico increased the popularity of folk music from different regions, while the radio became the main source for hearing the latest hits coming from neighboring countries, including the United States.
As the rock n' roll lifestyle became more prevalent, musicians or Chicanos living in the United States took it upon themselves to merge traditional Mexican sounds with styles taken from other ethnic groups; Ritchie would be the front-runner, but not until 1958. At the same time that Rock n Roll was being born, Ritchie's father died by 1952. Thus, as everyone was busy falling into a rebel spirit, Ritchie Valens, went into solitude in his home, exploring the vibrations felt under his fingertips from the guitar that his father had given him. This is where his passion took hold of his fingers, and he was able to teach himself complicated riffs. Passion is allowing oneself to be moved. It is moving others. It can be understood as something that we are born with, as opposed to our beliefs and cultures – which are, in fact, what we are born into. There was no question that Ritchie knew what his passion was now. In my case, I grew up migrating around the United States, and I was exposed to different landscapes, different languages, and different music. I grew up listening to the popular Mexican music of Los Tigres Del Norte, Los Temerarios, and Los Broncos because of my parents. Besides this, however, they introduced me to contemporary and romantic Latin artists of the 1990s such as Laura Pausini, Juan Gabriel, Enrique Iglesias, and so on. Once my family migrated from North Carolina in a white Chevy Suburban to Santa Maria, California in 2001, I was exposed to a fountain of music and Chicano culture. Walking into a Mexican household felt like walking into an earthquake. They had music coming out of every crack in the house. The whole town played Selena songs, Brenton Wood songs, and Gloria Estefan songs. It was heaven, it was a community held together by music. This exposure influenced my perspective on music. However, I have found it in my nature to make music the way I see it; through improvisation.
Physicist Albert Einstein, at one point, touched based on the nature of music and improvisation. Einstein believed much the same as physics that beyond the observations and theory lay music of the spheres – which, he wrote, revealed a "pre-established harmony" exhibiting stunning symmetries. (New York Times) The laws of nature, he said, such as the theory of relativity, were waiting to be plucked out of the cosmos by someone with a sympathetic ear. Ritchie, of the cosmic race, and of the Chicano culture – with no doubt – was a sympathetic person and listener.
Although naturally shy in front of others, Ritchie was never shy about playing his guitar. When he was in junior high school, he accompanied his neighborhood friends to local garage parties, where he took the role of being lead singer. Things at home were not very good financially, however. He stuck by his mother's side, nonetheless, struggling to help her make payments on their house. Ritchie's increasing passion and need to support his mother led him to continue performing in the small garages of his neighborhood. Surprisingly, along the way he was being referred to as "The Little Richard of the Valley." By the time he was in high school, he was playing for his classmates outside the sun-filled cafeteria. Even one of his teachers recalled that Ritchie was hard to forget; "He was always bringing in guitars to work on: refinishing, polishing, restringing." (Mendheim) Ritchie was known for his sharp outfits, but now he was known for his talent and passion for Latin sounds and rock n roll.
One of the most unique things about Ritchie's small performances was his effort to sing Mexican ballads. It was here where he first performed his rockin' rendition of an original folk song from Vera Cruz, Mexico; La Bamba, which, by the way, climbed its way to the top of American popular music by 1958. However, before this would take place, he had to be "discovered". In his days of playing Chuck Berry songs and traditional mariachi songs, he was invited to perform at clubs. A doo-wop group present eventually took notice of this Chicano rock star, and offered him a spot in their performance gigs. He was sixteen, and the youngest member of the group. This move allowed for Ritchie to make some income and help his mother out with rent. A talent scout by the name of Doug Macchia eventually picked up on Ritchie's vibrations and notified his boss, Bob Keane, who made an offer to take Ritchie into his developing record company, Del-Fi records, after seeing him live. Keane recalls, "He had a small, somewhat beat-up guitar amp worth about fifty bucks. He stood on stage, with complete command of his audience. He was this bull-like kid…I knew he had potential." (Mendheim)
The realization that Ritchie was a Mexican with the name of Richard Valenzuela meant that putting Ritchie out into the spotlight would be difficult task, since very few non-white artists were successful. So Richard Valenzuela was turned into "Ritchie Valens", his style remained, and he began his first steps as a recording artist. In his first session in the recording studio in 1957, Ritchie recorded what would become his most known hit, "La Bamba" as well as another hit, "Oh, Donna." A list of other songs includes "Come On, Let's Go", "That's My Little Suzie", "We Belong Together" and more. His songs are practically all folk-based, in the sense that they are influenced by a real story or event, written down, and then sung out loud. There was a story behind every Ritchie Valens song. For example, his song "Come On, Let's Go" came from an expression his mother Connie used to say when they were leaving to go somewhere (Barrios). Connie remembers the first time she heard her son's song on the radio in an interview with the Los Angeles Times: "I told his brother Bob (21 at the time) let's go to Saugus. I had some business there. I pulled over to the side of the road when "Come On, Let's Go" came on the radio. We just sat there looking at each other amazed (Barrios). Another example is his song "oh Donna." Before Richie began recording, he had the opportunity to fall in love with a blonde haired, blue-eyed high school classmate by the name of Donna Ludwig. Unfortunately, he would also experience his first heartbreak, which explains the development of this simple yet touching song, dedicated to his very first sweetheart.
It sings:
"I had a girl
Donna was her name
Since she left me
I've never been the same
'Cause I love my girl
Donna, oh where can you be?"
Music and Lyrics by Ritchie Valens, "Oh, Donna" (web)
Ritchie was then invited to tour with young singer Buddy Holly and rising Texan rock star J.P. "The Big Bopper" Richardson. Buddy's percussion supported tune of "Everyday" remains part of my popular playlist in my iPod today. The tour was named the "Winter Dance Party" and would feature musicians Waylon Jennings, Dion (of Dion and the Belmonts), Tommy Allsup, Carl Bunch, and Frankie Sardo. The plan was to tour 24 western cities starting on January 23rd of 1959, and make enough money to support their families. What none of their families ever imagined was that these cosmic stars would lose their life along the way. In February of 1959, snow was blanketing the state of Iowa. The buses that the musicians were riding on had a failed heater, leading to frostbite and flu among some of them. Holly made arrangements for a local plane to take him and others to North Dakota until the tour reconvened. There was only room for four in the plane, and so Buddy, The Big Bopper, and Pilot Roger Peterson took up three seats. Ritchie – after winning a coin toss – was granted the remaining warm seat on the N3794N aircraft.
The aircraft disappeared into the misty clouds that day, never to return the four young men to 1959. A generation of music perished with the death of the musicians. The roaring 1950s concluded tragically. Rock n' roll was left orphan, and the Chicano Rock movement dwindled, but not for too long. Nevertheless, the impact that Ritchie, Buddy, and The Big Bopper had on their generation and music ignited the last of the 1950's, leaving the final sentence to the chapter to be "The Day the Music Died." While the Midwest remembered Buddy, The Big Bopper and Roger Peterson, the corners of the San Fernando Valley were flooded with a shocked population of Mexicans and Chicanos. Chicanos had been on the verge of assimilating into popular rock culture at its infancy, but now the road ahead seemed foggy, due to Ritchie's death. One Los Angeles article observed his funeral scene: St. Ferdinand Catholic in San Fernando was overflowing at 10 a.m. when Reverend Edward M. Lynch began the requiem high mass for the death youth. Nearly a hundred youngsters – who could not crowd into the edifice, stood quietly in a mist – not quite rain- while the bell in the Church tower(s) tolled; several hundred of the boys and girls, who were his fans, stood with bowed heads. (Los Angeles Times)
Surprisingly, the road ahead might have been appeared foggy, but Ritchie's presence proved there was sunshine beyond the fog. His record sales skyrocketed after his death on February 3, 1959, and Chicano artists like Los Lobos and Carlos Santana would pick up the torch left behind, and continue Chicano Rock n Roll into the next decades. Even today, Ritchie's "La Bamba" is found ranked at 354 on the Rolling Stone's 500 greatest hit of all time. When the film "La Bamba" about Ritchie's life came out in 1987, the song was popularized for a second time. His sister, Irma, said an interview with the Los Angeles Times that she hoped for her brother, the film about him, and his music would inspire young Latinos. Irma wished that they would realize that they do not have to be "macho", mean, or have taken drugs to be a man. She said "they will also see that it's OK to be sensitive, [and] tender, while taking care of their families" (Barrios).
The popularity of Ritchie's voice and the popularity of "La Bamba" really said a great deal to the Chicano communities about the ways in which they could make a difference for their fellow Chicanos and Mexicans. The Chicano communities' efforts to keep his memory alive have not failed since his death. Ritchie was inducted into both the Hollywood Walk of Fame and the Rock and Roll Hall of Fame. The bronze star at 6733 Hollywood Boulevard bearing the rock star's name was made possible in 1990, after two years of fundraising $3,500 by family and friends. One fan, 46-year-old Rudy Ortega, was quoted as saying "he may be dead, but he is still alive to me" (Los Angeles Times). The Mystic Stamp Company released a 29c postage stamp (below) in his memory in 1993, the year I was born.
Through artistic exploration and heightened awareness of the mixing of cultures and sounds, Chicanos like Ritchie were able to develop their own platforms through which they could communicate anything that they wished to communicate. In a time where Chicanos were misunderstood and underrepresented by popular American culture, Ritchie's passion shone through. The emergence of this hybrid culture and music, and the pride that they engendered, enhanced social justice movements. This brings my attention to Vasconcelos' views on the effects of migration on our society as a whole, and its power over our way of thinking and living. There are several ways to understand events like migration or death. The real potential that we hold is the creative potential to use our imaginations and passions to fill the void with communication. Canadian Psychoanalyst, Norman Doidge, wrote a book called "The Brain That Changes Itself." In it, he wrote: "Cultural differences are so persistent because when our native culture is learned and wired into our brains, it becomes 'second nature,' seemingly as 'natural' as many of the instincts we were born with. The tastes our culture creates — in foods, in type of family, in love, in music — often seem 'natural,' even though they may be acquired tastes." (Doidge, 209) My taste and Ritchie's taste in music were acquired from growing up in Chicano communities in California. It became second nature to listen to both English and Spanish music. So, when Ritchie sang "La Bamba", he sang it flawlessly, despite not speaking fluent Spanish. The sounds in his music reflect what he was closest to, his culture.
From a macro point of view, popular culture in the United States of America is like the phenomenon of neuroplasticity, in the sense that American culture – much like the human brain- can be regularly reorganized according to the circumstances that people are faced with. The condition and the final shape that the object of change takes on – be it the human brain or American popular culture – is not necessary, but its flexibility persists in nature, which can lead to varying implications. For example, throughout American history there have been countless attempts and occasional victories for minority groups (e.g. females, people of color) to reduce injustices and implement rights. The very act of exerting force against a large body at rest shows that people can be the determinants of their circumstances after all. That is not to say that we are to be continually at fault for everything good or bad taking place in our environment. Rather, it leads one to the final conclusion that there exists the possibility that one can prevent injustices from taking hold of our daily lives, by simply creating a change within.
The Chicano movement is only one of several examples of a group experiencing changes within themselves and causing change in larger arenas of American life, by using some of the most antique forms of expressionism to communicate not only their frustrations as a minority, but also their pride of culture and history as descendants of Mexican working families. Chicanos are just one of several minority groups, or "subcultures", in the United States to not only develop their own style of talking and walking, but to organize and build new ideas that would serve Chicano communities in many ways. This is evident in the case of Ritchie Valens.
Migrating to a foreign land and integrating oneself into a new culture are hard to understand, especially when one is referring to the roots of Chicano culture and the birth of Chicano rock n' roll. Nonetheless, Chicanos are a primary example of a resilient subculture determining their own means of livelihood, using both their "roots" and their ambitions to shape a spirit and a culture of their own. I proudly identify as a Chicano when I am asked who I am or where I come from. Chicano culture is a culture that has its own set of qualities apart from Mexican and American cultures. Ritchie Valens during the 1950s magnified the Chicano lifestyle, in the universal language of music, and succeeded.
Once the first wave of Chicano organization took place in the 1940s, there was a guarantee that Chicanos were here to stay. The hungry attitudes of young singer-songwriters in America, and the increased mingling between musical genres, gradually increased among Mexican-Americans (Chicanos) in places like Los Angeles from the 1940s into the 1950s. Although the dominant culture of elitism was at the forefront, ethnic minorities managed to share their unique music. Ritchie Valens emerged as a front-runner for his generation. His songs represented not only his experiences, but also the personal experiences of a hybrid culture. Backed by the sounds of rhythm & blues and Latin flavor, songs like La Bamba emerged to become one of the most acclaimed songs of the Chicano Rock movement of the 1950s. Chicano rock became one of many outlets through which Chicanos in the twentieth century expressed themselves. This phenomenon is observed in the life of Chicano rock star Richard Steven Valenzuela, otherwise known by his stage name, Ritchie Valens; a figure that I – as a Chicana – believe serves as a monumental and solid representative of Chicano culture and Chicano Rock N' Roll.
Only one thing matters, what gives you pleasure. It may be bodies, pictures of Jesus, flowers, children's toys. It's all the same. The more pleasure you get from life, the more you say your prayers.
— George Buchner, The Complete Plays
********
Works Cited
Books
Büchner, Georg, and Michael Patterson. The Complete Plays. London: Methuen, 1987. Print.
Geijerstam, ClaesAf. Popular Music in Mexico. Albuquerque: U of New Mexico, 1976. Print.
Gomez, David F. Somos Chicanos; Strangers in Our Own Land. Boston: Beacon, 1973. Print.
Keefe, Susan Emley, and Amado M. Padilla.Chicano ethnicity. Vnr Ag, 1987.
Mackenzie, Malcolm S., Jose Vasconcelos, and Didier T. Jaen. "The Cosmic Race/La Raza Cosmica." Hispania 66.2 (1983): 304. Web.
Shaw, Arnold. The Rockin' '50s; the Decade That Transformed the Pop Music Scene. New York:  Hawthorn, 1974. Print.
West, Stanley A., and June Macklin.The Chicano Experience. Boulder, CO: Westview, 1979.   Print.
Mendheim, Beverly. Ritchie Valens: The First Latino Rocker. Tempe, AZ: Bilingual/Editorial  Bilingüe, 1987. Print.
Muñoz, Carlos. Youth, identity, power: The Chicano movement. Verso, 1989
Charles Darwin: Life and Letters, I, letter to W. Graham, July 3, 1881, p. 316; cited in Darwin  and the Darwinian Revolution, by Gertrude Himmelfarb (London, Chatto and Windus,  1959), p. 343.
Historical Newspaper
Barrios, Gregg.  Ritchie Valens Roots.   Los Angeles Times.  Jul 19, 1987; Historical  Newspapers: Los Angeles Times. pg. K3
Valdez, Luis. "Once again, Meet the Zoot Suiters." Los Angeles Times. Aug 13 1978.  Web. 4  May 2016.
Miller, Arthur I. "A Genius Finds Inspiration In the Music of Another." The New York Times. The New York Times, 30 Jan. 2006. Web. 26 Apr. 2016.
-, Ritchie Valens, Rock 'n' Roll Idol, Buried.  Los Angeles Times Feb 8, 1959; Historical  Newspapers: Los Angeles Times. pg. B1
-, Rock Legend Ritchie Valens Given Star.  Los Angeles Times.  May 12, 1990;  Historical Newspapers: Los Angeles Times pg. OCA28
Popular Sources
"Chicano Rock! The Sounds of East Los Angeles (DVD). PBS.org. Latino Public Broadcasting. 03 Apr. 2016.
"Donna" Lyrics.  Ritchie Valens Lyrics. Web. 26 Apr. 2016
"The Rock and Roll Hall of Fame + Museum." The Roots and Definition of Rock and Roll. Web.  15 Apr. 2016.
Reprinted courtesy Dana Cruz. Copyright © 2016. All Rights Reserved.