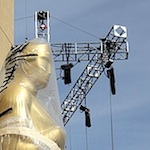 In Hollywood, they say, Oscar is king. So why didn't POCHO get invited to the king's Big Night Out?
8. All the valet gigs are sewn up by Telemundo producers.
7. They only invite Hispanics with the right attitude, with good credit  and who play well with others.
6. There is an industry ban on pastel Quinceañera Tuxedos.
5. They think Mexican Mitt is a Cuban baseball catcher.