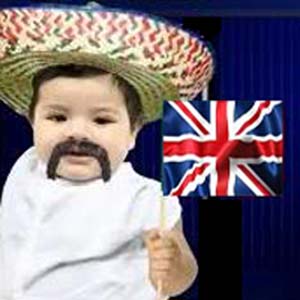 (PNS reporting from LONDON) Normally perky Buckingham Palace Her Majesty's Parking Valet Reymundo Hernandez Terraza was uncharacteristically quiet today after the birth of Prince William and Kate Middleton's new baby boy, although some friends of the royal servant noticed he sported a "secret smile."
Some Palace observers have remarked on the newborn's apparent slight suntan, attributing the child's skin tone to Britain's recent heat wave, when temperatures soared into the high 60s.
"I have no comment and who do you think you are — Mr. Sherlock Homie?" Royal Housekeeper Consuela Pico y Alvarado told PNS.
"Aye! Que bigote!" she added.
POCHO ÑEWS SERVICE PNS IS A WHOLLY-FICTITIOUS SUBSIDIARY OF POCHISMO, INC., A CALIFORNIA CORPORATION, WHO IS A PERSON ACCORDING TO THE SUPREME COURT. DON'T ASK US, WE JUST WORK HERE.