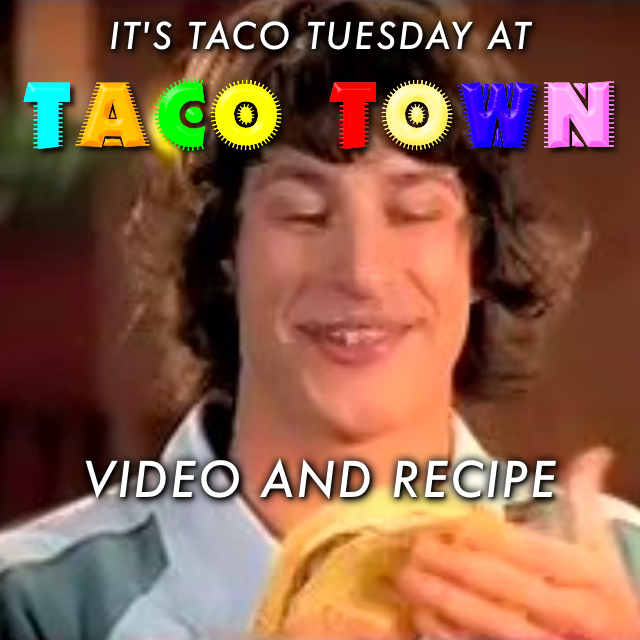 Before the churro dog, before the taco donut, before the taco inside a gordita, there was Taco Town, home of the most kick-butt Taco Tuesday ever!
Delish! Want to make this at home? Here's the recipe:
Ingredients
(1) Small crispy corn tortilla
(1/4 lb.) ground beef
(1 cup) melted nacho cheese sauce- Velveeta will work)
(1 handful) shredded lettuce
(1 handful) diced tomatoes
southwestern sauce (can be made by mixing Dijon mustard, ranch dressing and mayonnaise with chipotle seasoning, onions, garlic, and Mexican spices)
(1) regular size flour tortilla
(1 cup) refried beans
(1) large soft corn tortilla
(1 cup) shredded Monterrey jack cheese
(1) extra large deep-fried gordita shell
(1 cup) guacamole
(1) extra large corn husk
(1 cup) pico de gallo
(2 cups) flour (for crepe)
(3) eggs
(1/2 cup) portobello mushrooms
(1/4 cup) gruyère cheese
(1/2 ft.) diced link of Merguez Sausage
(1) 16 in. Chicago-style meat lovers' pizza (includes Canadian bacon, sausage, ground beef)
(1) box of pancake mix
(1) small container of blueberries
(1 qt.) thick liquid flour-based batter
(2 cups) vegetarian chili
Steps
Fill a small crispy tortilla with ground beef, melted cheese sauce, lettuce, tomatoes, and southwestern sauce
Wrap it in a larger flour tortilla with a layer of refried beans in between.
Wrap that in a larger corn tortilla with a layer of melted Monterrey jack cheese in between.
Take a deep fried gordita shell and wrap that around the taco with a layer of guacamole in between.
Wrap that in a corn husk filled with pico de gallo. bake it.
Wrap that in a crepe filled with egg, gruyere, portobello mushrooms, and Merguez sausage.
Wrap that in a Chicago-style deep dish meat lovers' pizza.
Wrap that in a large blueberry pancake
Dip the whole thing in batter and deep fry until golden brown.
Put it in the "commemorative" tote-bag. Fill the bag with vegetarian chili.
Tips
If you don't have the means to truly deep fry (step 9), put the battered taco in a deep pan filled with grease (Crisco will work) and fry.
The guacamole is great with lime, onions, tomatoes, cilantro, salt, pepper, jalapenos, and garlic.
The pizza could be ordered or made (if you have the proper oven). If you don't have a pizza oven, you can bake homemade pizza using store bought dough, cheese, sauce, and meat.
There are no formulas for the amount of any specific ingredient. Just fill up the taco based upon your personal preferences.
Things You'll Need
A traditional oven
At least two cooking pans
A pizza oven (optional)
A skillet for the crepe and pancake
A pan and stove for "deep" frying.
K sabor!