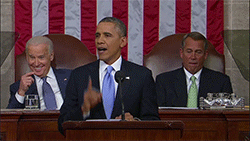 (PNS reporting from WASHINGTON) President Barack Obama plans to use his executive powers to raise the minimum wage for employees of Federal contractors and he wants corporate executives and local and state officials to do the same.
"Give America a raise!" he said in his State of the Union address Tuesday night:
In the coming weeks, I will issue an Executive Order requiring federal contractors to pay their federally-funded employees a fair wage of at least $10.10 an hour – because if you cook our troops' meals or wash their dishes, you shouldn't have to live in poverty.
Additional Obama initiatives are aimed at the Latino community. Sources close to the President have told PNS to expect the Administration to implement these additional programs in the coming weeks:
Alternative Mexican Wage: $10.10 per hour minimum wage, for hours lasting 120 minutes.
No Chi Left Behind: Childcare income tax deduction extended to Chihuahuas.
Cabron Credits: For every two pendejos you convince to self deport, one Get Out of ICE Jail Free Card.
Most Favored Haitian Status: Persons of Haitian descent who were born in the Dominican Republic but were recently stripped of their citizenship will be allowed to come to the mainland U.S.A. as if they were Puerto Ricans.
Eres Nerd, Victor Payan and Comic Saenz contributed to this story.
SOTU image via BoingBoing.
EXTRA BONUS TWEET FROM TEXAS REPUBLICAN CONGRESSMAN RANDY WEBER:

On floor of house waitin on "Kommandant-In-Chef"… the Socialistic dictator who's been feeding US a line or is it "A-Lying?"

— Randy Weber (@TXRandy14) January 29, 2014
POCHO ÑEWS SERVICE PNS IS A WHOLLY-FICTITIOUS SUBSIDIARY OF POCHISMO, INC., A CALIFORNIA CORPORATION, WHO IS A PERSON ACCORDING TO THE SUPREME COURT. DON'T ASK US, WE JUST WORK HERE.