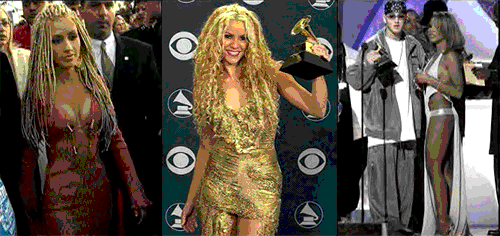 POCHO first covered this estory in 2001:
LATIN GRAMMYS MOVED FROM TROPICAL DICTATORSHIP TO L.A.
Second Latin Grammys Celebrate Latino Roots Amid Controversy
by Victor Payan, Pocho Resident Alien Musicoloco
The Second Annual Latin Grammy Awards are slated to take place tomorrow, but already the event is receiving much criticism from members of the Latin music community. Many Latino artists claim that they are being excluded from the ceremony by producer Emilio Estefan and his so-called Miami Mafia. Critics also maintain that a separate event treats Latino musicians as second-class artists. "This is just not true," says Sepero Boricual, a spokesman for Estefan's production company, Estefan Fetchitt. "Emilio and Gloria believe that all Latin cultures are beautiful, but some are more beautiful than others."
The Latin Grammys have also been widely criticized for excluding Mexican regional artists, who make up nearly 60% of the market for Spanish-language music sales in the US. Last year, norte–o heroes Los Tigres de Norte gave back their award in solidarity with their excluded brothers and sisters. If the situation does not improve, Chicano music heavyweights Los Lobos are threatening to go on a hunger strike, spelling potential disaster for Mexican restaurants everywhere.
Mexican-American and Chicano artists have traditionally been excluded from the Grammys, but Boricual says this is not the Latin Grammy's fault. "It's not about exclusion," says Boricual. "The Latin Grammys are based on peer votes. If major labels don't release or promote Chicano records, there are no peers. No peers means no peer votes, and voila, no Grammys. Now, does that sound like exclusion to you?"
To add insult to injury, a publicity blunder earlier this month announced that the Mexican rock group Jaguares would be nominated for an award, but in reality it was a mistranslated inter-office memo to Jack Juarez, the head of the event's catering staff. But concerns about the Estefan-centric nature of the event are bolstered by this year's nominees.
This year's favorite, for example, is the Miami-themed "Son of Myself: songs By, For, About, and Inspired by Gloria Estefan." The two-record set has garnered 11 Grammy Award nominations, including Best Album by Gloria Estefan, Best Song by Gloria Estefan and Best Record Produced by Emilio Estefan. A second Estefan album, "Sabor a Mi: Love Songs from Gloria to Gloria" is also nominated this year.
The preponderance of Estefan-connected projects in last year's Latin Grammys has led many in the Latino music industry to claim that Estefan administers the event like a cultural dictatorship. "Everyone accuses Emilio of acting like a thug, strong arming and excluding people, but that's just not true," says Mary Elito, a spokesperson for the Latin Grammys. "Generalissimo Emilio is a very kind and wonderful person," says Elito. "As long as you don't question or criticize him, he will not sue, threaten or perform santeria on you like he did with that meddling taco-eating pocho Lalo Alcaraz or that letter-writing plantain Willie Colon after last year's show." Estefan has also been rumored to have sued Tejano singer Emilio for copyright infringement regarding the use of his name. This year, however, it has been Estefan's turn to be sued, as producer Kiko Santander filed a suit in July alleging that Estefan failed to promote his career and was withholding royalties.
While many are critical of the Latin Grammys, one group of Latino musicians is hailing the event. "The Latin Grammys has been great for our community and has given us a chance to celebrate our proud roots," says Ruby Amensa, president of NALGAS, the National Academy of Latinoesque Guera and Anglo Singers. "Before the Latin Grammys, we were limited to regional corporate sponsorship deals for products like Fanta, Pan Bimbo and Ariel. But now, we're selling name brand products."
One singer who has benefitted from the corporate/Estefan connection is Colombian singer Shakira, whose ads for cola giant Pepsi have been a hit in her home country, where a lawsuit claims that rival cola-warrior Coca Cola is using right wing paramilitary death squads to intimidate, torture and even kill labor leaders and organizers. The suit also takes aim at Coca Cola for false advertising, because of its slogan "Coke Adds Life." Shakira, named after the Cars album "Shake It Up", recently joined NALGAS after dyeing her once dark and multi-colored hair golden blonde.
Another favorite for a Grammy this year is the Andy Garcia-produced "Buena Vida Country Club," a collection of tropical tunes by wealthy Miami businessmen and slide guitarist Ry Twinger. Despite the criticisms, however, Estefan Fetchitt spokesman Boricual maintains that conservative, consumerist corporate values are not what drives the Latin Grammys. It is about the culture. "The Latin Grammys symbolize that Hispanic culture is here to stay and we are not just disposable spokespersons for corporate entities that only care for our community's money," says Boricual. "We are not here to be used up, exploited and then thrown away like yesterday's refried beans."
In related news, performers at the Latin Grammy ceremony will be wearing brown ribbons to call attention to the case of George P. Bush, who has been missing since the January 21 presidential inauguration. Concerns about the once-ubiquitous Republican political hunkster's disappearance were heightened recently, when a shark was caught off the Florida coast whose stomach contained a monogrammed handkerchief with the letters "GPB" as well as several thousand dangling chads. The shark also contained a CD by the group Timbirichi, which was a known favorite of the missing Bush.
© 2001 Victor Payan with apologies to Lalo Alcaraz and Willie Colon (although Lalo really does eat tacos).
Gustavo's post reprinted with permission from OCWeekly.com
PREVIOUSLY ON GRAMMYS: