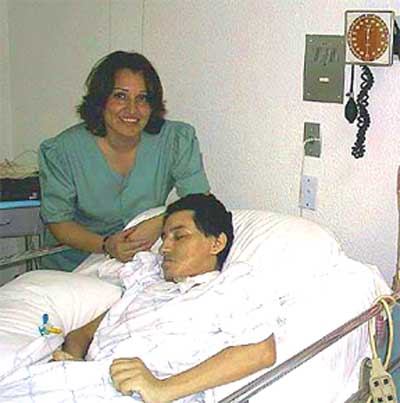 (PNS reporting from HOLLYWOOD) Newcomer John Gomez stars as The John Gomez Show premieres Sunday night, the latest sitcom starring a Latino that is destined to join the long line of Latino TV shows that suck.
John and his sweet, sexy wife Lisa are a happily-married couple with two children. Daughter Rosie is just turning the corner to teenager, and son Sam is a precocious — oh, forget about the plot line, it promises to simply suck big time.
"It's a formula for failure," declared Hispanic TV audiences everywhere.
"I will watch it no matter how bad it is. Juan Gomez is one of our own, even though he is the unfunniest Latino on the planet," said Latina inactivist Vera Tellez.
"I am just happy that a major network was desperate enough to try to put another awful Latino TV show on the air. That was very thoughtful of them. Si se puede!"
Anglo Broadcasting Network executives were beaming with pride.
| | | |
| --- | --- | --- |
| | | Do you ever get the feeling you've seen this all before? |
"We had a widespread talent search for the unfunniest Latino in America, and we believe we found him. We could have picked a stand up comic, but John Gomez, a semi-comatose motorcycle accident victim, was extra unfunny," said TV executive Gary Gringowitz, adding, "A moderately funny stand up comic would fail here, just as miserably as a semi-conscious Hispanic everyman."
Executive producer and actress Sandra Buttock:
Latino audiences are extremely desperate for any Latino faces on TV so we created an utterly predictable program for this purpose. We sought out the absolutely unfunniest Latino comedy writers in the industry, so we chose two wealthy white guys to write the pilot. They think they term 'Latino' is just a fancy way of saying, 'The guy who mows my lawn.'
"Not to take anything away from the blacks, but enough already. I'm not trying to be a bigot, but boy am I tired of seeing Negroes on TV," said Ray Cista, an avid TV watcher and Latino mechanic from Pendejo City, NM. "It's about time we see some more bland raza on TV. And no more chinos either."
"Those were Chicanos up there in a positive light," said Chato Ramirez of Chalupa, Arizona. (For those unfamiliar with TV lingo, "positive" actually means: 'extremely unfunny.')
"Everyone knows that 'positive' portrayals of Latinos are more important that entertaining or humorous portrayals of Latinos. I don't usually even watch TV," said Ramirez, "For entertainment, I just like to go down to the drugstore and read the greeting cards, because they are so positive."
"This is our target audience," said TV exec Gringowitz. "We aimed our show towards the ISL, or 'Incredibly Stupid Latino' demographic. Our network has pledged to develop our slate of programming for our new campaign called 'Must Suck TV.'"
"The John Gomez Show may suck even more than the Chico and the Man episodes where Freddie Prinze is dead and was replaced by that talking burrito puppet, but at least it's our show. Our own horrible, God awful show. But it's ours!" said Maria de la Tonta of San Pachuco, CA.
John Gomez had no comment for this story, other than blinking his eyes twice.
Yes, POCHO published this story the first time 10 years ago but no one remembers who wrote it.
POCHO ÑEWS SERVICE PNS IS A WHOLLY-FICTITIOUS SUBSIDIARY OF POCHISMO INC., A CALIFORNIA CORPORATION, WHO IS A PERSON ACCORDING TO THE SUPREME COURT. DON'T ASK US, WE JUST WORK HERE.