These days in Aztlan — and across lots of the United Estates — most immigrants come from Mexico, but it wasn't always that way. A hundred years ago or so they were from Germany.
The Pew Research Center reports: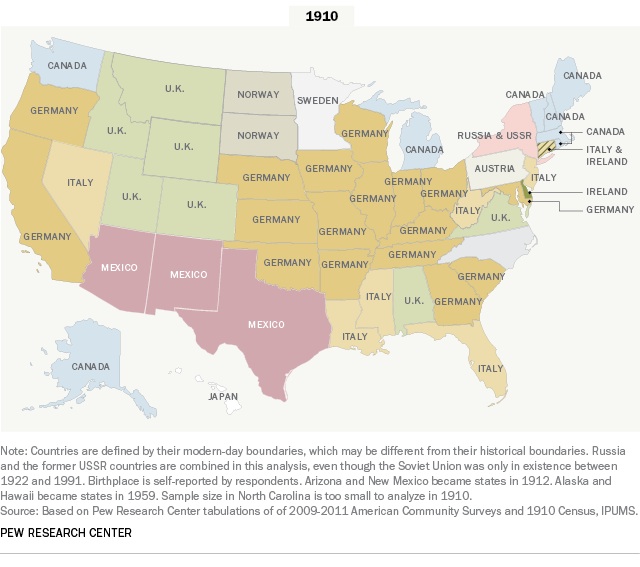 With more than 40 million immigrants, the United States is the top destination in the world for those moving from one country to another. Mexico, which shares a nearly 2,000-mile border with the U.S., is the source of the largest wave of immigration in history from a single country to the United States.

But today's volume of immigrants, in some ways, is a return to America's past. A century ago, the U.S. experienced another large wave of immigrants. Although smaller at 18.2 million, they hailed largely from Europe. Many Americans can trace their roots to that wave of migrants from 1890-1919, when Germany dominated as the country sending the most immigrants to many of the U.S. states, although the United Kingdom, Canada and Italy were also strongly represented.

In 1910, Germany was the top country of birth among U.S. immigrants, accounting for 18% of all immigrants (or 2.5 million) in the United States. Germans made up the biggest immigrant group in 17 states and the District of Columbia, while Mexico accounted for the most immigrants in just three states (Arizona, New Mexico and Texas). Behind Germany, the second-most number of immigrants in the U.S. were from Russia and the countries that would become the USSR (11%, or 1.6 million).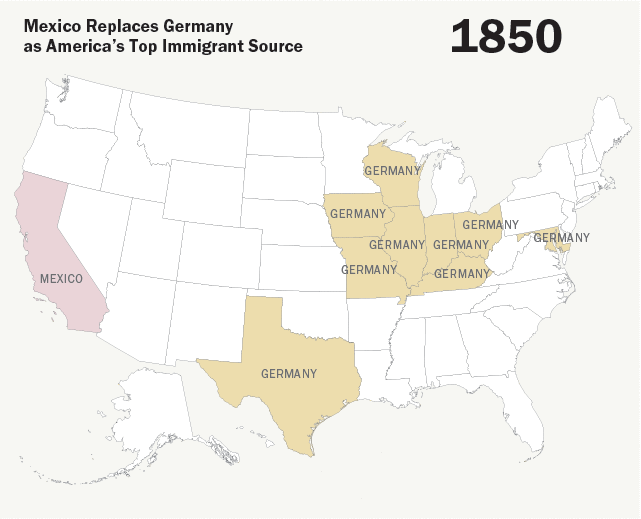 If you're not blinded by the animated GIF, you can read more over at the Pew Center, which is where we got these maps.
PREVIOUSLY ON THE MAP IS NOT THE TERRITORY: