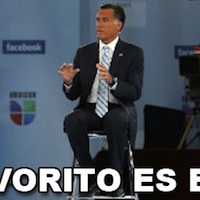 Those vendidos at Univision's Espanish subtitling department are lying Cubanos and they hate Mexicans like me. That is the ONLY EXPLANATION I have for the way they translated my remarks for my Espanish-speaking friends.
Here is what I really said:
So-called transcript: But the truth is as you know my dad was born of American parents living in Mexico.
Correct subtitle: YO SER MEXI-MORMON GUERO
The immigration system, I think we all agree, is broken and it's been a political football for years. MEXICANOS DEBER EL SELF-DEPORTO
I love legal immigration. MI CERVEZA FAVORITA ES TEQUILA
Well, first of all this is a campaign about the 100 percent. GRINGOS FLOJOS NO PAGAR TAXES. ESPECIALMENTE EN TEXAS
I love Hispanics. YO TENER UN CHINGO DE VIEJAS EN UN CHINGO DE CASAS
Well, we're not going to — we're not going to round up people around the country and deport them. ADIOS, MOJADOS.
I am a businessman. YO SER UN BAINDIDO
Yeah, that's a great question and it counts, and you point out, Jorge. TU ERES EL LATINO ANDERSON COOPER
 I would repeal all of Obamacare and replace it. VICKS VAPORUB PARA TODOS
We have a responsibility in this country to reduce drug usage. YO SER MORMONAZO MORENAZO
My campaign is about the 100% of Americans. MI FAVORITO ES EL 69%