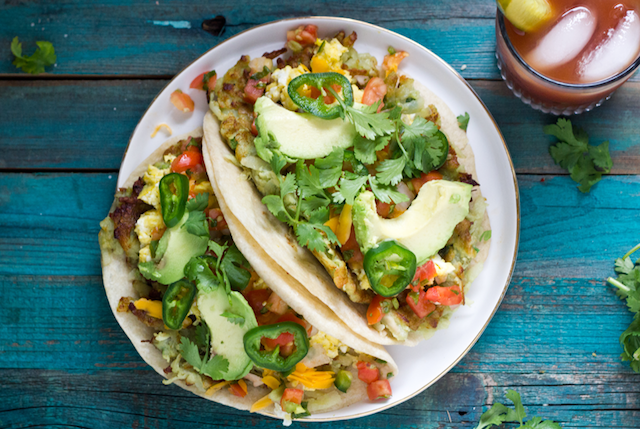 When a nice Jewish girl from Connecticut moved to Austin for a job, she quickly fell in love with a Texas tradition: breakfast tacos.
And when Chanukah came around, she knew just what to do with the traditional treat of fried potato pancakes — breakfast latke tacos, of course!
My first breakfast taco did not disappoint and started a long love affair with the simple and yet also complex nosh. The book Austin Breakfast Tacos: The Most Important Taco of the Day details how Mexican settlers in Austin in the 1870s brought traditional tamales and other delicacies when they immigrated and opened food stands downtown (the first food trucks, if you will). Though no one is quite sure who popularized the breakfast variety, it was bound to happen.

While my new job paid the bills, it didn't inspire me. I thought back to my cooking days with Bubbe and decided to start a blog about Jewish food, called What Jew Wanna Eat, with the tagline "This ain't yo Bubbe's blog." (When I showed my blog to my coworker, she asked, "What's a Bubbe?" Once again, I found myself the lone Jew.) I went to culinary school and became a full-time chef and blogger.

Here in Austin, the recipes I create often combine local influences with Jewish traditions, from Hatch chile hummus, to Tex Mex sabich, to brisket braised in Shiner beer. I love to combine the heat of Texas cooking with the recipes of my youth. As Anthony Bourdain once said: "Only Texans and Jews understand brisket."

That's how I ended up making one of my favorite traditional Hanukkah recipes, latkes, into a dish Tex Mex that speaks to the non-Jews in my current Texas home. I mashed up the best breakfast taco fixins with my favorite fried treat to make a uniquely Texan dish for the Festival of Lights: avocado latkes breakfast tacos. The result is spicy, cheesy, and has the perfect amount of grease to fuel you for eight days of dreidel games.
The holiday starts Sunday night, so there's plenty of time to make latke tacos for everyone!
PREVIOUSLY ON POTATO LATKES: