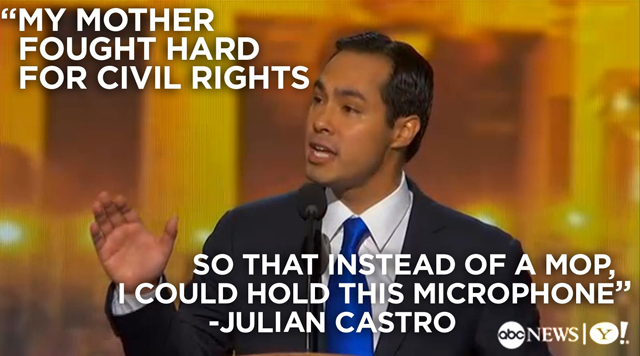 I was recovering from the Clint Eastwood Chair Incident, pretending to listen to some storm victims in who-knows-what-FOCKED-UP backwards-ass SOUTHERN STATE, and I was forced by my campaign adviser to watch the Democratic National Convention.
TV COVERAGE OF THE DEMOCRATIC CONVENTION IS HILARIOUS, the camerapeoples have to constantly pan around to find THE ONE STRAIGHT WHITE MALE.
Then I was forced to watch the espeech given by JULIAN CASTRO. Yes, the espeech gave ME A PAIN IN THE BIDEN.
First of all, how did a 12-year-old version of Jimmy Smits become the mayor of a major American City? Oh it's San Antonio? Never mind.

What really  made me suspicious that this child is some kind of Mexichurian Candidate is that he brought up menudo. He claimed that his abuela won a menudo cookoff. Yeah, right. How can she, a Cuban grandma, win a menudo cookoff? I can see Puerto Rican Jeffrey Dahmer killing and cooking up the boy band Menudo, but these commies?
HIS ABUELA ESTOLE MY IDEA ON HOW TO CURE ILLNESS — WITH MEDICAL MENUDO COOKOFFS IN LABAMBACARE. Also, how can he be the mayor of San Antonio? He has to be the skinniest resident of that city full of gordos AND pansones. He doesn't look like he eats menudo NOR breakfast tacos, nor drinks a daily 18-pack of Shiner Bock before lunchtime.
DON'T PEE ON MY SOMBRERO AND TELL ME IT'S RAINING!
He and his brother, or cousin (or both) call themselves the "Castro Brothers." LIE! Everyone knows that the Castro Brothers are a combined age of 300 years old and wear track suits and/or commie-style uniforms. Also, their facial hair would make Amish beard cutters pop a pup tent.
I HEARD HIS BROTHER DOESN'T HAVE A DRIVERS LICENSE, that's why they call him JOAQUIN.
He went on and on about how his mother "sacrificed." Oh brother. He said his mother held a mop so he could hold that microphone. Well I got news for you, homeboy:  YOU HOLD THAT MICROPHONE LIKE A MOP, and NEWT GINGRICH WANTS YOUR NUMBER.
Anyhow, after watching this espeech, the choice is clear:
The GOP ECONOMIC PLAN: TRICKLE DOWN ECONOMICS, DEMS ECONOMIC PLAN: MENUDO COOKOFF.
My advice to the stupid poor peoples, IF YOU DONT HAVE NO MONEYS, JUST BORROW SOME FROM YOUR TRUST FUND.
JULIAN CASTRO promises MENUDO TODAY, but you'll end up with PATA TOMORROW. I have some advice for this kid:
HEY JULIAN, BETTER WATCH OUT BACKSTAGE, ANTONIO VILLARAIGOSA WILL BITE YOUR NECK TO ESTEAL YOUR YOUTH, like he has done to so many.
THIS VATO NEEDS TO GO BACK TO CUBA TO HIS COMMUNISMS. We don't want his commie rantings. Cuba is my least favorite island, as I cannot store anything of my moneys there.
Now, I must get back to holding down Marco Rubio, who is dying to attack this dictator like he did so long ago at the Bay of Pigs.
One good thing though: THAT IS THE SHORTEST ESPEECH EVER GIVEN BY A CASTRO.