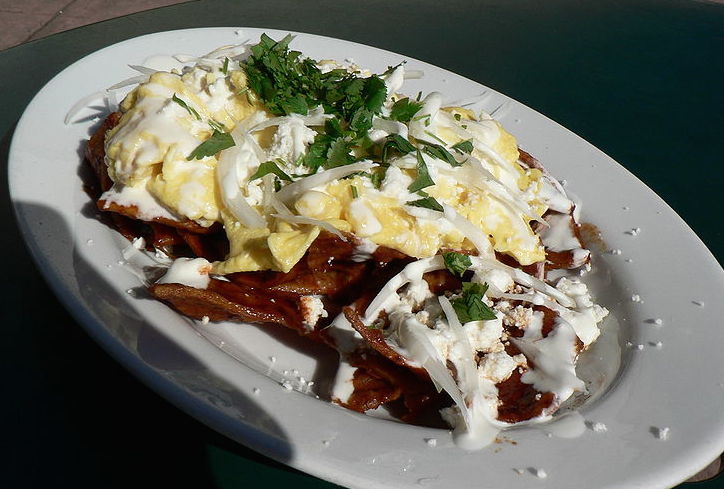 Hello. Is Tia Lencha here. I haves the World Cup feber. Do ju?
Is the feber ju get from watching the World Cups and being so mad at the referees and Holland and wonder who put brujeria on Brazil, that ju want to hit the telebision with a cuchara from the kishen. But I watch the games anyways.
The only gway I can watch the games now is to drink some micheladas to make me want to hit the telebision less times. So today I tell ju how to make chilaquiles to go with the beers that ju need in order to watch the games of the third place and the finals this week.
First the ingrediens:
Tortillas (the more estale the better, like the U.S. defense except for Howard's)
Corn oil (slippery oil like the FIFA)
Red or green salsa (they are both colors of Mexico so ju choose)
Cilantro (green like Chicharito's eyes)
Red or gwhite onion (chopped like my heart after Mexico lose)
Avocado (green like Chicharito's shirt)
Cotija cheese (to crumble like the morals of the referee who gave Robben a penalty kick)
Refried beans (optional, if ju still have love in jur heart after Costa Rica lose)
Fried egg (optional, if ju still have hope that Argentina wins)
Then ju make!
Cut the tortillas into strips, like you want to cut Holland. Then heat some oil (not too mush) and let the tortilla pieces dive into the hot oil like Robben ebery time he sort of toushes another player's foot.
Do NOT stir too mush because then the tortillas break apart. Is a penalty kick if ju break jur tortillas so don do it!
When tortillas are crispy, ju put the red or green salsa on top. Let all the pieces get some salsa (like all the players of Germany got a gol against Brazil).
Then you put the onion, cheese, cilantro, and avocado on top to finish.
If ju want to make the chilaquiles more especial like Tia Lencha do, ju put the beans and egg on top of the chilaquiles like ju crowning a champion that is not Holland or Germany.
Is a good meal for breakfast or bronch or lonch. And perfect with beers.
Until next time when I make something to feel better from all the beers I drink.
PREVIOUSLY ON TIA LENCHA: